Do you want to know the secrets to telling great jokes and being funny?
This new eBook shows you how be funny and charming, gives you over 200 great jokes, and most importantly gives you an easy way to finally remember the jokes!
You can see the eBook's cover below: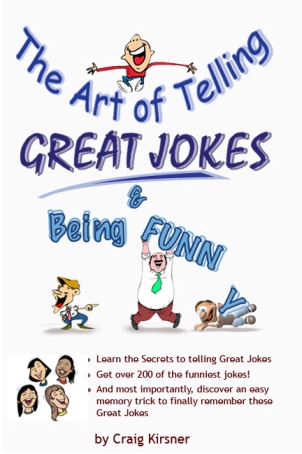 A reader review:
"The Joke eBook gave me inspiration and confidence to tell a joke on the spot."
"I learned many options to tell a joke to any crowd of people, from clean to politically incorrect.
It's a great feeling to make people laugh."
- Caryn Lida, Miami, Florida, April 2007

August 12, 2007

Hi!
I'm going to show you everything you need to learn to tell and remember really funny jokes!
Have you ever been somewhere and wanted to tell a joke but just couldn't remember one?? OR have you ever felt a little uncomfortable or unsure about telling a joke? We all have. Well, one of the great things about this eBook is that it gives you a memory trick to finally remember those great jokes! Also, it teaches you how to find your humor style and learn great joke timing.
What memory trick will help you remember these great jokes?
It is a simple, but not widely known technique of associating a picture with a joke. Everyone is aware that pictures are easier to remember than words, which is why you always remember a face but not always a name. The joke eBook gives you hundreds of the most hilarious jokes and each joke is followed by a picture that helps you remember the joke!

Here is an example of a picture reminding you of a joke:
A man goes into a cocktail bar and approaches a woman sitting by herself.
He says to her "Can I buy you a drink?"
She replies "No thank you, alcohol is bad for my legs."
He responds "Sorry to hear that. Do they swell?"
She says..... "No, they open!" :-)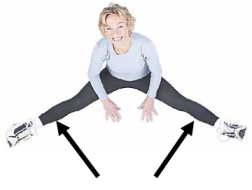 & this is the picture that reminds you of this joke!
Not only do you receive over 150 of the greatest jokes I have ever heard, each with a picture that will help you remember them, but you also learn techniques on how to be a great joke teller! Yes, I will teach you the secrets to telling a great joke!
The eBook is titled "The Art Of Telling Great Jokes and Being Funny :-)" As the title suggests, this guide is for people interested in beng funny or learning how to tell funny jokes, and having a great time while doing it. There is a secret to being funny - ultimately you are funny when your humor is composed of good timing, a solid technique, excellent delivery and of course a number of hilarious jokes. This eBook gives you all of these and more!
Learn from someone who knows what it takes to be funny.
You may be wondering, "Who is this guy that is trying to teach me how to tell a great joke?"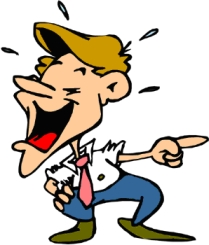 That is a good question.
Am I a comedian? No.
Am I a famous comedy writer? No.
Am I a clown for kids parties even? Nooo
(Thank goodness for the kid's sakes!)

My name is Craig Kirsner, and I am a regular person just like you. Except that I discovered a long time ago the secret to making people laugh, and you know that people love to laugh. My friends know me as the "funny guy" because I always have a great joke to tell and I keep people laughing... Sometimes with me, sometimes at me - but that's a different story! Everyone enjoys being around someone funny.
The eBook teaches you the techniques and timing to tell great jokes and also provides you with sure-fire jokes... not groaners!
Where did I get these jokes? For years I have been sending out an email every Friday known as"Friday Funnies" which has the best 2 to 3 jokes I receive all week. Each week I receive plenty of jokes, just like you - but only a few make it into the "Friday Funnies". Over the years, I have accumulated many jokes and I put the best of them together to create this eBook.
Every joke's punchline in the eBook is in italics, followed by a picture that will help you remember that joke.
The sooner you learn these techniques to telling great jokes and begin telling these jokes the better. Don't wait any longer, now is the time!
The eBook is in a downloadable PDF format, so you get instant access. It is full color with pictures after each joke to help you remember them. You can print the eBook or read it directly on your computer. You can buy the eBook using the secure shopping cart - click here to get the eBook now!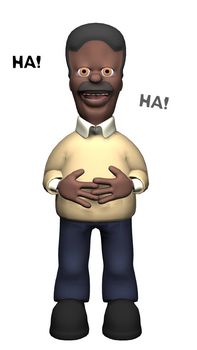 Want a sample of
what's in the eBook?
Here's a sampling of what you will learn in the eBook...

Techniques

to telling a great joke




Learn what type of joke teller you are


Learn what humor is


Learn what exactly makes a joke funny


A breakthrough memory technique to finally remember the jokes!

And you will get much more! What are you waiting for? Buy the eBook using the secure shopping cart - click here to do so now!


Peek inside the eBook
Click on the links below for a quick sneak peek inside the eBook. Each PDF page is extracted from the eBook and requires the Adobe Acrobat or free Adobe Reader web browser plugin for access. Please notice that each link only presents one page of the topic. The rest is in the full version of the eBook.
The eBook offers over 100 pages of jokes! All with pictures after each joke so you can finally remember the jokes! Plus you get another 32 pages of free bonuses as described below!
"Ever since I read this eBook I am
the life of the party!"
"The tools on how to tell a great joke make it easy for anybody to do it.
& your memory trick allowed me to finally remember the jokes! It's so easy."
- Josh Doro, Fort Lauderdale, Florida, March 2007
Be funnier TODAY!
No matter how funny you are, you can always be funnier! The low price for this eBook is just a ONE-TIME low payment of only $9.99. That's less than the cost of dinner at your favorite restaurant.
Plus, you'll receive an unconditional, 90 day, 100% satisfaction, money back guarantee!
This basically means if you're unhappy with your purchase at anytime within the next 90 days you may receive a full refund.
But consider something of even greater importance...
What you really need to consider is what you're getting for your money - because it's more than just an eBook.
You are getting LIFELONG valuable knowledge that will provide you with the skills to be funny and charming to your friends and colleagues.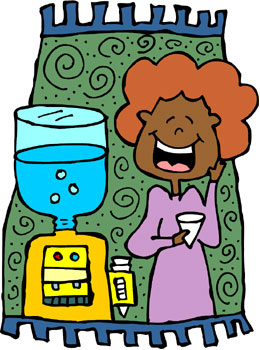 "I laughed out loud so often, I imagined I was watching a Comedy Central comedian at the top of her/his monologue!"
- Norman Cressy, Ph. D., Los Angeles, California, April, 2007
The Art Of Telling Great Jokes & Being Funny! is personally backed by my no-questions-asked, I-promise-you-will-love-it, 100% satisfaction guarantee for 90 days!
Now, in case you have any remaining doubts at all, I want to make it foolproof for you. You see, I completely guarantee your satisfaction!
So, here's my 90 day guarantee...
I, Craig Kirsner, hereby solemnly swear...
...to PERSONALLY GUARANTEE your COMPLETE SATISFACTION right down to the very last day of the 90 days after you receive the eBook.

If at ANYTIME during those 90 DAYS you're NOT completely convinced the The Art Of Telling Great Jokes & Being Funny! eBook has given you VALUE, I want you to ask for your money back.

I will refund you every penny you paid, immediately, NO QUESTIONS ASKED.

Sound fair to you?
Craig Kirsner.
The truth is, you will NEVER have to worry about a refund.
Why not? Because once you actually apply the easy-to-use strategies and techniques explained in The Art Of Telling Great Jokes & Being Funny!, I'm confident you'll be delighted by the results you can attain.
And even if you decide to ask for a refund, you do not have to worry about me running off with your money. I own and manage a debt-free, cash-rich business. Don't delay: Purchase the eBook now using the secure shopping cart - click here!

You also get 3 free bonuses with the eBook:
Bonus #1:



The Funniest Sites On The Internet

*Ever want to know the absolute funniest sites on the Internet? Well here they are including links to some videos you must see!
Bonus #2:


Snaps

*5 pages of jokes to crack on your friends, and your friends' moms!
Bonus #3:


Great Blonde Jokes

*12 hilarious pages of great blonde jokes!
Now that I've shown you this risk-free way to be funny and charming using jokes...The next move is up to YOU to make.
If you've read this far, you know that you have a strong interest in being funny and charming. All that's left is to TAKE THE ACTION and do it!
Now is the time for action! Click the button below now...
Yes - I want immediate access NOW!
I am ready to learn how be funny how to tell great jokes!
I understand that using the tried-and-tested, proven strategies and techniques taught in the easy-to-understand The Art Of Telling Great Jokes and Being Funny! eBook is the fastest and easiest way to do it.
I understand that I will get IMMEDIATE ACCESS to the eBook, and all three 100% free bonuses once my credit card is successfully processed by the secure server.
I understand that I can pay the RISK-FREE, one-time only investment of $9.99 with my Visa or MasterCard.
I understand that my credit card and personal data is 100% SAFE AND SECURE as the order is processed by GoDaddy.com and Intuit QuickBooks Merchant Services, using industry-leading SSL ENCRYPTION technology.
I also agree that by buying this Manaul you are over the age of eighteen (18) as many of these jokes are politically incorrect.
Finally, I understand that my purchase is covered by your PERSONAL, RISK-FREE, NO-QUESTIONS-ASKED 100% SATISFACTION GUARANTEE, FOR 90 DAYS.
If I am not completely satisfied within the first 90 days, I may request and get a full refund, ANYTIME, no-questions-asked.
Buy the eBook anytime and get instant access, even if it's 3 AM!
You can also feel good knowing that 10% of all profits go to a Miami, Florida charity to feed the homeless (CPA audited).
One final point...
In today's uncertain world, humor is a proven way to win people over using charm, wit and timing. Everyone needs to make more friends and break the ice with new friends and colleagues and leaving your "funny-bone" to chance is not the best plan of action. You need more than that. You need real world, tested and proven, actionable strategies and techniques, and tools.
Get the eBook today. You will not regret it.
Best regards,
Craig Kirsner
Miami Beach, Florida, USA.
P.S. Are you still skeptical? I fully understand. So then, let me add something extra special to sweeten the deal. Get the eBook today and I'll throw in complimentary LIFETIME UPDATES! Whenever the eBook is updated, you'll receive a complimentary copy. It's yours ABSOLUTELY FREE, but only if you get the eBook TODAY!

"Hilarious."
"
I laughed out loud so often! It's great!
"
- Norman Cressy, Ph.D., Los Angeles, California (April, 2007)
P.P.S. Lastly, even if you ask for a refund ANYTIME within the next 90 days... even if it's on the very last day of the guarantee period... you will receive it promptly, with no questions asked.
I look forward to you being funny and a great joke teller!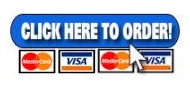 Copyright © 2007 OutstandingEBooks, Inc. All Rights Are Reserved.
3487 Cocoplum Circle, Coconut Creek, Florida 33063, USA.
TOLL FREE: 888-58EBOOK (888-583-2665)
EMAIL: info@OutstandingeBooks.com
www.OutstandingEBooks.com